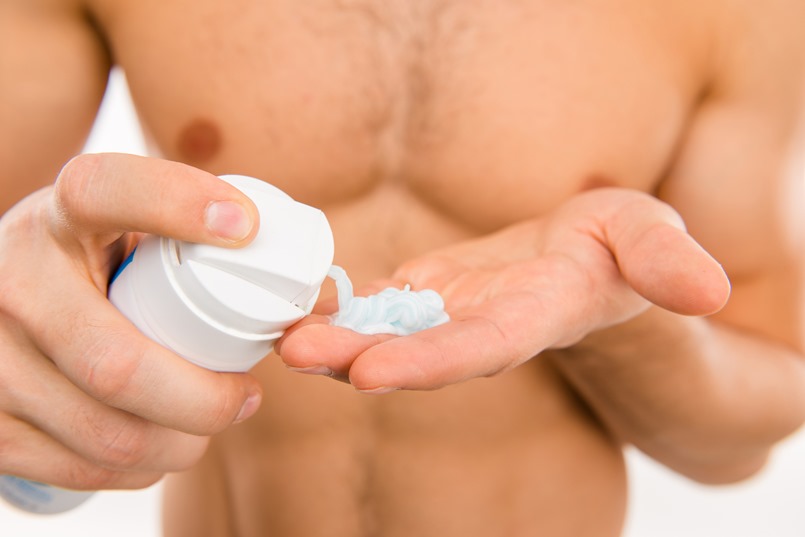 16 Mar

What is the Best Natural Shaving Cream for Men? Organic Shave Cream Guide

Disclaimer: This article may contain affiliate links. This means that if you buy a product or service after clicking on these links, I earn a small commission (at no additional cost to you) which helps pay for the upkeep of this website.




All men know that in order to get the very best shave possible, they need to embrace the benefits of shaving cream. But what if you like the thought of using something a little more natural? Here are some of the things to know when it comes to buying the best natural shaving cream for men.
Why Should I Use Natural Shaving Cream? 
It seems that more and more people are finding out about the benefits of using natural skin care and beauty products. Whether this is shower and bath products, skin creams or make-up, knowing that you are using an all-natural product will make you feel great.
The same can definitely be said for natural shaving cream. But what is so good about natural shaving cream and why is it something that you should invest in for your shaving routine?
Have you ever shaved without any cream? If you have then chances are that you are not going to want to try that again in a hurry. Shaving without cream will increase the risk of you scraping your skin, causing ingrown hairs to grow and also creating the perfect breeding ground for bacteria and infections too.
Natural shaving cream is designed to ensure that you can have the clean-shaven look (without the bad bits) whilst still being kind to the environment too.
The majority of non-natural shaving creams that you can buy off of the shelf will contain a number of chemicals that you would not even realize are in there. These chemicals can cause your skin to have some adverse reactions, which includes dry and irritated skin, the exact opposite of what you are going to be trying to achieve.
Another huge benefit of using natural shaving cream is that it is made to give your skin a treat. Sure, some alternatives can say that they contain the ingredients which will help the skin, but how true is this? Natural ingredients, such as shea butter and kelp extract often appear in natural shaving creams both of which are known to be packed full of nutrients and other great stuff which will leave your skin feeling amazing.
Of course, one of the biggest benefits to opting for an all-natural skin care product, such as shaving cream, is that it is kinder to the world around us. Less harmful chemicals in its production means less in the environment and unlike some other types of shaving cream, a natural product won't usually come in an aerosol form, which will help the environment further.
Finally, when you choose an all-natural product you can have the peace of mind that whilst you are treating yourself, there is so much more to it than that, you will be having a positive impact on the world around you and you will also be making sure that your skin and your body feel the benefit of your choices.
What to Look for in Natural Shaving Creams?
So, now you know more about the amazing benefits of choosing a natural shaving cream, you might wonder how you can tell whether or not the cream you have chosen is what you are looking for?
It isn't always easy to spot the natural shaving creams out there, even if they state that they are natural on the packaging, you still might want to take the time to check things over a little further.
The first place to take a look is the ingredients list, it makes sense that you are going to see a whole lot of natural oils listed. This could be aloe, jojoba, olive oil and coconut, all of which are known to have hugely positive impacts on your skin.
Along with looking for these ingredients, you should also keep a look out for some harmful additives and ingredients that can appear in shaving cream.
The most common place things that you should look out for include sulfates, propylene glycol, triethanolamine and phthalates, as well as parfum too. But what is so wrong with spotting these ingredients in the list?
Sulfates- Possibly one of the most common ingredients that you will see in beauty products, sulfates are responsible for all the lather that many people look for. The lather may feel nice when it comes to shaving, but, in the long term it could actually damage your skin.
Propylene Glycol- You most often see this ingredient being used as a moisturizer, however, what you may not realize is that it also is added to brake fluid and anti-freeze, which means that it might not be as soothing as you may think.
Triethanolamine (TEA)- This particular ingredient is an emulsifier, which means that it is used to stop water and oil from separating when they are brought together. There have been some studies into this particular ingredient and whether or not it is linked to cancer. What has been discovered is that this chemical and disrupt normal hormone levels within the body.
Phthalates- You will find this particular ingredient appear on a range of products, including skincare and cosmetics. They keep skin are products stabilized, however, they have also been linked to some negative health conditions, such as cancer.
Fragrance- Adding a fragrance to a skincare product makes sense, after all, the better it smells then the more chance you are going to want to use it. Whilst it may make sense, that doesn't mean that it is a great idea, especially since it can really have an impact on how your skin feels.
By choosing a natural shaving cream, you are eliminating these ingredients from ever making their way onto your face, which is a hugely positive step in the right direction.
Top 10 Best Natural Shaving Creams
There are a number of natural shaving creams out there, which means that you may wonder which one is right for you. To help inspire you, we have put together our guide to the top 10 best natural shaving creams, products that are definitely worthwhile you investing into.
Pacific Shaving Company Natural Shaving Cream
All natural and all safe, this particular shaving cream is made to reduce the risk of razor burn and ensure that you have the smoothest shave possible. The tubes may be small, however, they will last you up to 100 shaves, which means that they well worth the money. By using this cream on a regular basis, you will be left with skin that is not only soft, but that is happy too. Suitable for vegans and made from all organic ingredients, this shaving cream is also never, ever tested on animals.
Organic Male OM4 Shave
If you are worried that your skin just can't take any of the harsher ingredients that are found in the "normal" shaving products, then perhaps it is time to take a look at this shave cream. Suitable for all skin types, this natural shave cream allows you to have a close shave and still have well hydrated and nourished skin. Not only this, but with Coltsfoot, Prickly Ash and Comfrey, your skin will feel soothed after a shave, as well as at a much lower risk of suffering from ingrown hairs.
Alba Natural Very Emollient Cream Shave
The bright and colorful packaging of this particular cream shave really matches to the delicious mango and vanilla scent that goes along with it. Entirely soap free, this cream is amazingly refreshing on your skin and thanks to the long list of skin boosting ingredients including aloe and lavender, it also helps to battle dryness. Hypo-allergenic, those with sensitive skin can also use this particular product.
Cremo Coconut Mango Moisturizing Shave Cream
No-one likes the idea of having nicked skin and razor burns after shaving, which means that they are looking for a product that can stop this issue from happening. Made by Cremo, this moisturizing cream contains molecules that are incredibly slick, allowing a razor to slide over your skin with ease. If this wasn't enough then it also comes with aloe, calendula and papaya, which means that it is going to leave your skin feel naturally beautiful and soft.
Dr Bronner's Peppermint Organic Shaving Soap
When you hear that a product contains peppermint, then you know that it is going to really make sure that your skin feels awake and refreshed. This vegan product may say that it is a soap, but it really is anything but, it is gentle and creates the ideal way to get your beard and skin underneath feeling as amazing as possible. As well as, as clean as possible too. Luxurious and with a long lasting effect, it contains no synthetic detergents and preservatives.
Brickell Men's Smooth Brushless Shave Cream for Men
Shaving can seem like a bit of a hassle if you do decide to use a brush to apply your cream, which means that if you can find a product that allows you to move away from the brush, then this is it. Rich and all natural, those people who use this shave cream say that it not only makes sure that your skin feels hydrated after use but also gives you a clean shave too, without worrying about nicks, cuts or even irritation.
Pre de Provence Men's Shave Cream
This particular shave cream is packed full of Shea Butter, which means that you can expect your skin to feel amazing after using it. Not only Shea, it also contains aloe vera in order to really make sure that you feel smooth. A European style cream, it has a rich texture when it is applied to the skin, giving the ideal barrier between the razor and the skin.
Coochy Shave Cream Au Natural
The Jojoba Oil in this particular cream is what gives it the ability to really protect your skin and allow your razor to glide over your skin and leave it feeling great. After shaving you will not only feel amazing, but your skin should also be free of nicks, cuts, scrapes and irritation, which means that long after you have used it, your skin will still be feeling amazing.
Hawkins and Brimble Shaving Cream
One of the first things that you will notice with this shave cream is the simple yet effective packaging. However, this is a shaving cream that works well as well as looks good. It is designed to soften stubble, which means that it will be much easier to remove, giving you a smooth and close shave. Fully barber approved, if you cannot treat yourself to a proper trip to the barber, then this could be a much cheaper alternative for you to try.
Marlowe No 141 Men's Shave Cream
When you realize that the two main ingredients of this shave cream is Shea Butter and Coconut Oil, then you can see just why it is known to not only soothe freshly shaved skin but also protect it too. Made with a trademarked blend of ingredients, not only is this cream effective in giving you a clean and close shave, but it also is lightly scented to make sure that you smell great too. It is fully paraben free and is recognized as being all natural and effective.
Final Thoughts
As you can see, there are so many amazing natural shave creams out there that you really don't have a reason to buy yourself one. Just look for a particular scent, brand or maybe even packaging that works the best for you and we can promise you that you will have a shave that will leave you feeling twice the man that you started as.