22 Dec

What is the Best Mustache Wax? Where can I Buy it?

Disclaimer: This article may contain affiliate links. This means that if you buy a product or service after clicking on these links, I earn a small commission (at no additional cost to you) which helps pay for the upkeep of this website.




A great looking mustache isn't just about being able to grow one. It's about proper care and regular maintenance. Keep your mustache in tiptop condition and the compliments are sure to follow.

With that said, mustache care starts with mustache wax. It's the single most important product you can use on your facial hair. It keeps your hairs in place, trains your hairs to part away from your mouth, and gives your mustache just a little more luster.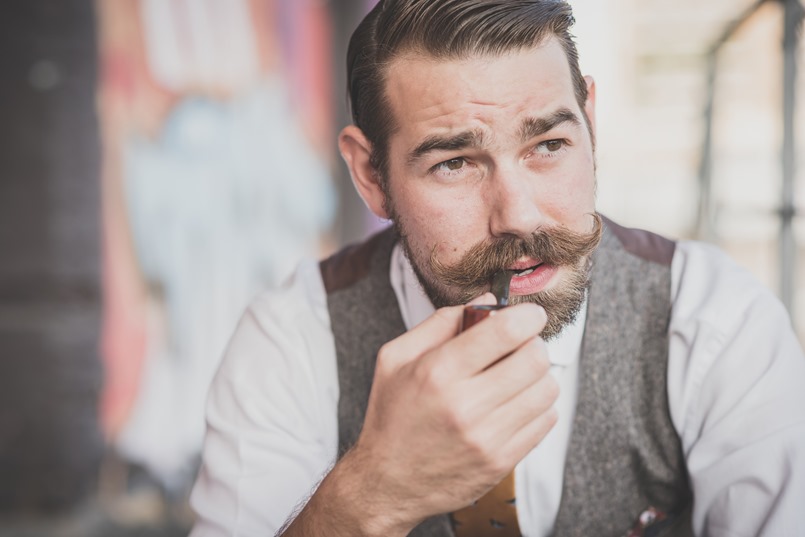 What is Mustache Wax?
Extremely popular in days of old, mustache wax is making a comeback. It's a stiff pomade, commonly made from a mixture of beeswax and petroleum jelly, that is used to hold the hairs of the mustache in their proper place.
The best mustache waxes on the market today have restorative properties in addition to grooming properties. As the hairs of the mustache grow, the mustache wax acts as something of a conditioner, keeping them soft and supple. Special mustache waxes also incorporate scents or pigmented dyes, but these are rare.
Modern day makers of mustache wax have started to experiment with a variety of ingredients in addition to beeswax and petroleum jelly. These include coconut oil, shea nut butter, gum Arabic, pine resin, scented oils, and tallow.
How to Use Mustache Wax?
Despite the simplicity of the product itself, many first time users aren't sure how to properly use mustache wax. Fortunately, doing so is actually quite easy.
Probably the easiest way to learn how to apply mustache wax is to watch a video of someone doing so. There are a lot of these available online. For those that prefer written instructions, here goes:
Use your nail to scrape off a small portion of wax. You really only need to use a sliver.
Rub the wax between your fingers to warm it up and make it more manageable. Some people use a hairdryer to help warm it up.
Apply the wax to the center of your mustache first. Then spread it to the edges.
Style as you see fit. Twisted ends and handlebars are popular with users of mustache wax. However, simply working a small amount into your mustache does the trick.
Use a mustache comb if desired. This helps work the wax into the mustache and creates a more natural look.
Where to Buy Mustache Wax? The Top 5 on the Market
When it comes to mustache wax, you don't want to go with anything less than the best. We mean, c'mon, it's your mustache that's at stake. Invest in a quality product and your mustache will look that much better. Below are the top 5 mustache waxes on the market to consider and all of them can be bought from Amazon!
Fisticuffs Mustache Wax
Hand-poured and convenient, Fisticuffs Mustache Wax comes in a small pocket sized carrying tin. It has a pleasant aroma of citrus and rosemary.
Fisticuffs Mustache Wax is a no-nonsense, old-fashioned product. It doesn't attempt to do anything more than hold your mustache in place. It has a decent hold that lasts the entire day, from sunup to sundown. At the same time, it's not overly strong and easily washes out.
This particular mustache wax is also noted for its versatility. It works well on facial hair of all types. The consistency is nice and can be worked into the thinnest of hairs to the coarsest of hairs.
Despite the scent of Fisticuffs Mustache Wax, is has almost no flavor. This might be an odd consideration for a mustache wax, but those with longer mustache hairs know that it's not. If your mustache hairs droop into your mouth, you'll be pleased to note that this particular wax doesn't have an unpleasant taste.
Find out more about Fisticuffs Mustache Wax.
Firehouse Mustache Wax Wacky Tacky
Handmade in the USA, Firehouse Mustache Wax Wacky Tacky is the mustache wax of choice for those that prefer a dark wax. This makes it perfect for users with dark colored facial hair.
Firehouse Mustache Wax Wacky Tacky is also one of the strongest mustache waxes on the market. For real though, it's hold is out of this world. Apply it in the morning and rest assured that your mustache will be in place at the end of the day. This is true no matter the conditions, even if they're extremely hot and humid.
Simplicity is another key factor in this mustache wax's success. It doesn't contain any dyes or fragrances. Both the color and scent come from the natural materials used in its creation.
Another great thing about Firehouse Mustache Wax Wacky Tacky is just how easy it is to wash out. Some waxes on the market feel like they'll never get removed. This one, on the other hand, only takes a little rubbing to remove. Hit the shower, massage the old wax out with your fingers, and get ready for a new style for the day.
Find out more about Firehouse Mustache Wax Wacky Tacky.
Wild Willie's Mustache Wax
If all-natural and organic ingredients are important to you, then it doesn't get much better than Wild Willie's Mustache Wax. It's created with seven completely organic natural ingredients.
Wild Willie's Mustache Wax is one of those rare mustache waxes that treats your mustache at the same time that it grooms it. Rub it into your hairs in the morning and you're actually getting a full-on maintenance treatment.
Shea butter gives the wax anti-inflammatory, moisturizing, and UV protecting properties. The yellow beeswax stimulates hair growth and protects your hairs from environmental stresses. Sweet almond oil strengthens and repairs split ends while pine resin makes the wax stickier. The tea tree essential oil promotes healthier hair growth and treats dandruff. Finally, cedar wood essential oil and rosemary essential oil stimulate hair growth and stimulate the hair follicles.
Users of Wild Willie's Mustache Wax rave about just how much bang you get for your buck. Only a pea-sized portion is needed to provide a superior hold all day long. The mustache wax even holds up to extreme heat and humidity, remaining strong without liquefying.
Find out more about Wild Willie's Mustache Wax.
Clubman Mustache Wax (with Brush Comb)
No matter the particular style you're going after, Clubman Mustache Was will get the job done. It's a classic wax in every sense of the word. The product comes with a free brush comb.
Clubman Mustache Wax is made of beeswax and coconut oil. These ingredients provide a whole lot of volume and superior control. They also minimize greasy residue and fragrances.
There are a whole host of things that help this mustache wax stick out from the competition. Chief among these is its creamy consistency. It's just a little bit softer than most other products out there. Despite its soft texture, the hold is incredibly strong. It's easy to style your mustache with this wax.
Another factor to note is that Clubman Mustache Wax doesn't go on stiff. Even though the hold is very strong, it doesn't get hard when it dries. It keeps your mustache exactly where you want it without a "glued on" feel.
Find out more about Clubman Mustache Wax.
Beardsmen's Premium Mustache Wax
Available in a huge 2oz metal tin, you get enough wax to last for the long haul when you invest in Beardsmen's Premium Mustache Wax. Indeed, the large size and low price point means that this is one of the most affordable deals in town.
Beardsmen's Premium Mustache Wax is crafted with the finest quality natural ingredients available. It is infused with jojoba oil and three essential oils for the ultimate in hold and feel. Use this mustache wax if a natural style is your ultimate goal.
A subtle scent of the woods emits from Beardsmen's Premium Mustache Wax. Is there anything more manly than a great mustache that smells like the woods? Apply the wax to your mustache and you'll notice just how good it looks. Despite the yellow color in the tin, the applied wax is almost colorless.
Beardsmen's Premium Mustache Wax is very strong. Once applied, it lasts all day. And the hold is strong the whole day through. Your mustache won't lose any of its luster over the course of a long day. At the same time, it doesn't give a hard or stiff hold. It holds your hairs in place without becoming annoying.
Find out more about Beardsmen's Premium Mustache Wax.
So Which is the Best Mustache Wax for You?
Whether it's your first time using mustache wax or you're a seasoned vet, one of the top 5 mustache waxes discussed above is likely for you. They range from scented to unscented, budget priced to top-of-the-line, and mild hold to ultra-strong hold.
The key to selecting the best mustache wax for you is to understand what you want. All mustaches are different and require a different grooming regime. So select yours based on the type of facial hair you have and the style of mustache you want. Experiment with the 5 products above and you're all but certain to find one that you'll use for the rest of your life.
We've also got you covered if you're looking for the best beard wax and best beard oil!