05 Jan

Shaving Cream Guide – What is the Best Shaving Cream?

Disclaimer: This article may contain affiliate links. This means that if you buy a product or service after clicking on these links, I earn a small commission (at no additional cost to you) which helps pay for the upkeep of this website.




While a lot of men focus on the tools they use use to shave, the choice of shave cream or shaving soap can be equally as important. Here is our guide to help you navigate making these all important choices.
Shaving Cream vs. Shaving Soap
Quality shaving cream comes in tubes or jars as a thicker, lotion-like cream, ready to be turned into a lather by a shaving brush or your fingers immediately. Shaving soap comes as a hard puck or bar, usually in a container or for use with a shaving bowl. The soap is not ready to use until water has been added, and a shaving brush is essential to building up a proper lather.
For men on the go, using shaving cream is faster and can save you a lot of time. Creams are less likely to dry out your skin than soaps, and often contain rejuvenating ingredients like shea butter and nourishing essential oils. There is also a certain skill and practice needed to learn how to get the best lather out of shaving soaps, while creams are simple to use.
However, the work that goes into getting lather from soap may be worth it to some users, as the richness of the lather is reportedly unlike any you can get from a cream. The best shaving soap bars also tend to last longer than creams, due to their solidity and thickness. At the end of the day, it all comes down to user preference.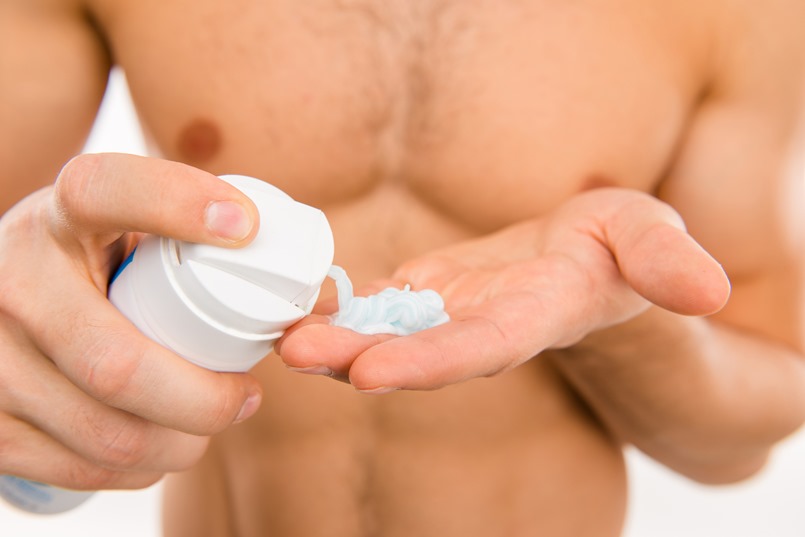 Ingredients to Look For in Shaving Cream
Unlike cheap aerosol shaving creams, good shaving cream is made up of ingredients designed to help reduce skin irritation and make for a smooth, even shave. A typical ingredient list of the top shaving cream brands includes most, if not all, of these components:
Water (Aqua)
Stearic Acid
Myristic Acid
Potassium Hydroxide
Sodium Hydroxide
Coconut Oil (Coconut Acid)
Glycerin
Triethanolamine
The water works as a solvent for the other ingredients in the cream, while also helping to trap air for the lather and allow for even application. Stearic and myristic acid are saturated fatty acids that are used to help stabilize the lather so that you get that creamy, fluffy texture. Coconut oil also contributes to stabilization and additionally provides moisturization and cleansing properties.
Potassium and sodium hydroxide are what help to turn the coconut oil into a cleanser and make the fatty acids easier to wash away. Glycerin, also known as glycerol, contributes to retaining moisture and is partly responsible for the glide of the lather. Triethanolamine is another ingredient used for stabilization, though in recent years it has fallen out of favor due to the possibility that it causes acne and contact dermatitis, among other health problems.
Other additives can include a variety of essential oils and extracts, aloe vera, shea or cocoa butter, menthol, and perfumes, also known as parfum. When selecting a shaving cream, it usually boils down to whether or not it includes an allergen for a particular person, how their skin handles the cream, and personal preference of the smell and feel of the cream.
If you're concerned about triethanolamine, there are plenty of shaving creams to choose from, and removing this ingredient doesn't negatively impact most creams.
How to Lather and Apply Shaving Cream
How one chooses to build a lather and apply shaving cream is up to personal preference. Some just use it right out of the tube and apply with their hands, while others prefer a bowl and brush. Arguably, using a shaving brush and bowl allows for the best lather and most even application, which leads to the best shave. Just follow these steps to lay the perfect foundation for a smooth, clean shave:
Make sure you've thoroughly dampened your face.
Soak your shaving brush in warm water to help soften the bristles for a few minutes, then remove and squeeze the excess water out, so it doesn't drip.
Have your preferred shaving bowl ready. You can also use any old mug that has enough space to allow for circular movements of the brush.
Put a dime-sized dollop of shaving cream in the bottom of the bowl.
Swirl your damp brush in the bowl. The cream will start to foam, but eventually, it will become a rich lather.
Once the lather is the right consistency, begin applying it to the areas you wish to shave. No more swirling should be necessary.
If the lather is too watery even after thoroughly whisking it, try adding a bit more cream. If it's too thick, thin it with a few drops of water at a time, until it reaches the right consistency.
Top 5 Best Shaving Creams
Taylor of Old Bond Street Sandalwood Shaving Cream Bowl
This shaving cream by Taylor of Bond Street has the advantage of coming with its own bowl, which is useful for those who are just getting into using quality creams, brushes, and straight-edge razors to shave with. The natural aroma of sandalwood smells strong during use but afterward offers a gentle fresh scent, with notes of cedar, lavender, rosemary, jasmine, and rose, all of which are believed to help promote relaxation.
You can enjoy a nice, smooth shave while using this product, though you might also require an aftershave treatment of some kind to ensure that your skin isn't dry-feeling.
Proraso Shaving Cream
An excellent cream for those who suffer from sensitive skin, the Italian-based Proraso cream contains aloe vera and vitamin E, which are known to help heal and promote healthy skin. The scent is a gentle amber and musk derived from natural ingredients.
No mineral oils or artificial colors are used in the creation of Proraso shaving cream. The cream is made from a "hot soap" process that involves allowing the cream to mature for three days before packaging. When building a lather, the manufacturer suggests using a few drops of water mixed with a dime-sized amount of cream in a bowl for best results.
The Art of Shaving Shaving Cream, with Sandalwood Essential Oil
Scented with sandalwood oil, this cream also includes glycerin, coconut oil, and essential oils meant to help trap moisture in your skin, encouraging a clean shave that leaves your skin looking healthy and feeling smooth. It comes in a container that can be used as a bowl and is more flexible than other shaving creams in that it can be applied with either a brush or with fingers. There are no floral notes to be found in this cream, unlike Taylor of Old Bond Street, which may be important to some users.
L'Occitane CADE Shaving Cream for Men
The CADE shaving cream is marketed especially for men who prefer to build a lather right on their face by massaging it on with their hands. Created with CADE essential oil, shea butter, and a vegetable-based glycerin, users report that it provides a particularly luxurious sensation on the skin, while also giving off a pleasant scent reminiscent of juniper.
Men who have sensitive skin seem to fare well with this product and claim that their skin feels moisturized for several hours after use, compared to other creams. If you're struggling with skin irritation and dryness, the L'Occitane Cadet cream might be for you.
Cremo Original Shave Cream
Made with mainly natural ingredients, Cremo Original shaving cream features macadamia seed oil, aloe vera, and calendula, lemon, papaya, and olive leaf extracts, all of which provide excellent moisturization, skin rejuvenation, and a pleasant scent. It is also paraben free and hasn't been tested on animals.
Cremo Original acts more like a lotion than a lather and is best used directly on the face, with additional water required to keep the cream slick. However, Cremo claims to be so effective users can shave against the grain of their facial hair, and also has the advantage of turning transparent on the skin, which may make it easier to shave by allowing you to see where you're planning to run your razor.