01 Mar

The Best Skin Care Products and Skin Care Routine For Men

Disclaimer: This article may contain affiliate links. This means that if you buy a product or service after clicking on these links, I earn a small commission (at no additional cost to you) which helps pay for the upkeep of this website.




When you've made a commitment to taking better care of your face and skin, it's wise to do a little research about the types of products that will keep your face clean and your skin glowing all day long.
What are the Best Skin Care Products For Men?
When exploring the shelves of skincare products, it's easy to become overwhelmed by the rows of jars and bottles, many of which boast names of things you've never even heard of. A trip to the pharmacy leaves you with feeling exasperated and confused. Do you need an exfoliant? How often do you use a facial mask? Which comes first the toner or the moisturizer? Let's help you make sense of men's skincare by breaking down a basic skincare regime, step by step.
Recommended Skin Care Routine For Men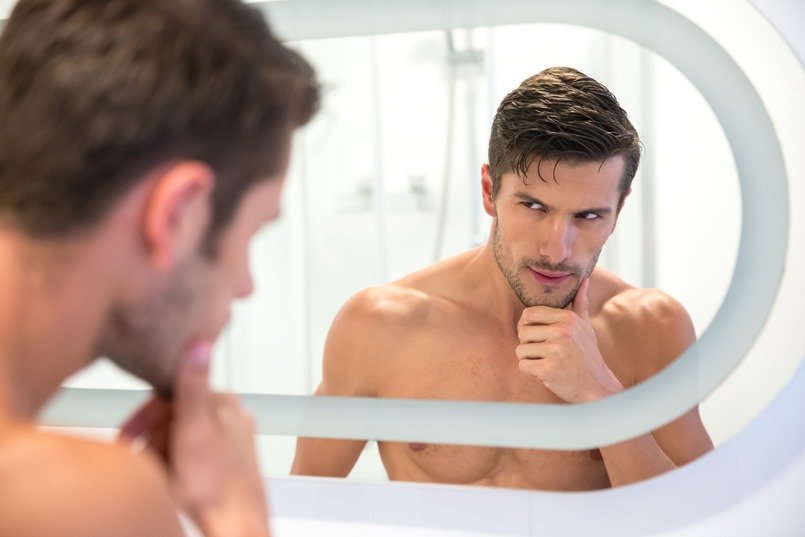 1. Facial Mask For Men
A facial mask is a skincare formula that you apply over your entire face. Facial masks generally have the consistency of a heavy cream. You will leave the mask on, according to the direction, to allow the ingredients to penetrate deeply into your skin.
Facial masks shed dead surface skin, open up pores, and draw up impurities out of the skin for a deep cleaning. Using a facial mask removes excess oils and hydrates skin. Facial masks have therapeutic qualities. Many brands are infused with essential oils that provide a form of aromatherapy. Masks are available with citrus notes like lemon, lime, and orange. Many men prefer more masculine scents such as spruce, cedar, or sandalwood.
Think about your skin type when choosing a facial mask. Some masks reduce oiliness, others reduce puffiness, and many masks are made with anti-aging moisturizers.
Applying a facial mask is a little more time-consuming than the rest of your daily skincare will be, so you may want to try a weekly mask at first. Once or twice a week is best, but you can use a facial mask daily if you choose. Apply the facial mask right after your shower, and before the rest of your skincare regime.
Apply the mask to your face using your hands. Avoid the eye area. Leave the mask on according to the directions. Wash off with warm, clear water.
Dead Sea Mask vs. Clay Mask
There is little difference between the quality of Dead Sea masks and clay masks. The biggest differences are in the application and the price. The Dead Sea mask doesn't require mixing, so it's an easy, one-step application process. Clay masks typically come in powder form, so you'll have to mix them with a bit of water. You'll also need a brush to apply them, so from the standpoint of convenience, the Dead Sea mask is easier to apply and takes less time. If you don't mind the inconvenience, the clay mask will save you money over the Dead Sea mask.
Dead Sea Mud Mask is made by Pure Body Naturals. What makes it popular is that has a high concentration of sodium and magnesium which makes it effective against blackheads and blemishes. It draws impurities out of the skin, cleans pores, and helps fade scars. It's an all-natural formula that draws out oils and toxins, cleans pores, and helps fade acne scars. This mask reduces the appearance of fine lines and wrinkles to improve the overall complexion.
2. Exfoliant For Men
An exfoliant removes the oldest dead skin cells on the skin's surface. With dead skin cells washed away, the skin's pores open up. Think of an exfoliant as a product that prepares your face for the rest of your skincare regime.
There are two ways to exfoliate. Apply a chemical exfoliate product by squirting the exfoliate onto your fingertips. Apply to your face in a circular motion and rinse off with warm water. You can also exfoliate mechanically by using a loofah sponge or scrubbing pad and some soap. The mechanical method uses friction to remove surface dead skin cells.
Exfoliate after your shower and facial mask if you are doing the mask the same day. Exfoliate 2-3 times per week. You may choose to exfoliate on a different day than you apply a facial mask. Take the guess work out of choosing and exfoliator with this microderm abrasion system from Essential Skin Solutions:
Cleanse your face and minimize pores to reduce the appearance of fine lines and wrinkles. This system also clears up stubborn acne. This formula can be used with all skin types including sensitive skin. The pack includes a face brush for sensitive skin for men who struggle with active cystic breakouts or rosacea. The system includes a rotating cleansing unit, a large exfoliating body brush, a sensitive skin facial brush, a firm microderm abrasion brush, and a pumice attachment for feet.
3. Cleanser For Men
Men's skin is different from women's skin, so look for a skin cleanser that is formulated for men. Cleansers for men will typically come in a jar, a tube, or a pump. A cleanser is a soap that is formulated for the special needs of men. In addition to cleaning the face, it softens hair follicles to prepare them for a clean shave. It's the next step after exfoliating or if you're not masking of exfoliating that day, cleansing will be the first step in your skincare regime.
Unlike masks and exfoliators, use a cleanser on your face every day. To apply most cleansers, you will dispense a dollop of cleanser onto your palm and apply to your face by rubbing it in. Rinse it off with warm water. You may want to try the best-selling men's facial cleanser on Amazon:
NIVEA Men formulated this face wash with a cleansing gel that soothes and conditions skin with vitamin E. It lathers up for a deep cleaning and rinses off cleanly. The product contains menthol which leaves you feeling clean and fresh. It's gentle enough to be used morning and night. You may get some blemishing after the first few uses because the impurities will be brought to the surface. This should clear up with regular use. NIVEA recommends following this cleanser with their Original Protective Lotion.
4. Toner For Men
There has long been controversy over whether or not you need a skin toner as part of your skincare routine. When you deep clean with masks and exfoliators, you are opening up pores to release the impurities. Like the other cleansing products, a toner adds an extra layer of cleanser. More importantly, it shrinks pores to even out skin and restore PH balance that was disturbed during the deep cleaning processes.
Toner has a watery consistency, so it's best applied by splashing a little onto a cotton ball and dabbing all over your face. You won't need to wash it off, so just let it air dry and move on to the next step in your morning skincare routine. Apply a daily application of toner after right after your cleanser.
After you apply your skin toner, you are ready to shave for the day. Before you do that, you might want to check out this best-selling skin toner:
It closes pores and smooths and softens skin, as well as removes traces of cleanser. It contains herbal extracts and Aloe Vera to soothe skin irritations. It works great on sensitive skin. Spray it right on your face for an easy application.
5. Eye Cream For Men
The skin around your eyes is more sensitive than other parts of your face. It's also one of areas that is susceptible to signs of aging such as lines, puffiness, and dark circles. Eye cream will soften and condition the sensitive skin around your eyes and help you keep a youthful appearance.
Applying eye cream is one of the final steps in a man's skincare routine, so perform this step either before or after you shave.
Eye cream is most effective when you apply it daily. You can also apply it just before bed and let it do its work over night. Just dab a little onto your fingertip and smooth above and below your eyes. If you're looking for a popular eye cream, try Instanatural:
This is an eye gel that reduces the appearance of dark circles, saggy eyes, and dryness. It increases the skin's elasticity and reduces puffiness. This cream will improve the tone and texture around your eyes.
6. Moisturizer For Men
Applying a moisturizer is the final step in your skincare routine. Moisturizers are absorbed into the skin and help replenish moisture and nutrients that help keep the skin supple and elastic. It prevents your skin from looking dull, dry, and unhealthy. Many products also include a sunscreen to protect your face from harmful UV rays.
Moisturizing is one of the most important steps of your skincare routine. Apply the moisturizer to all areas of your face with your fingertips, except for the eye area. Extend the moisturizer down into the neck area. Take this last step to take you into a busy day.
If you're looking for a best-selling men's moisturizer, you might try Rugged & Dapper Face Moisturizer:
This moisturizer includes rich ingredients that help with skin regeneration and helps stop your skin from being dry. It ends your skincare routine with a clean, non-greasy feeling.
Final Thoughts
Men want to look and feel just as good as women. The few minutes it takes to take care of your skin is well-worth the time and effort because it leads to healthier skin that improves overall health and keeps you looking younger.